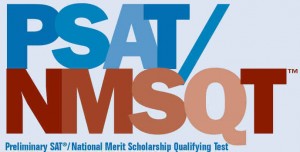 Hi! While you're here, join my SAT prep mailing list for subscriber-only content like my Urgent Report on SAT Reading!
While most students are familiar with the SAT, there is another form of standardized testing that can help prepare you for the SAT, which is a test called the PSAT.
The PSAT test prepares students for the SAT by giving them first-hand experience in critical reading skills, math problem-solving skills and writing skills, as well as giving students the additional benefit of access to the National Merit Scholarship programs.
Test prep for the PSAT is very similar to SAT test prep, since the tests are written by the same company, and the PSAT is derived from questions taken from actual SATs from past years.
All U.S. Juniors automatically take the PSAT at school:
Every high school student in the United States will take the PSAT at the beginning of their Junior year. There's no action you need to take and no need to register – your school will take care of everything for you.
However, you should make sure to mark the date on your calendar and prepare ahead of time to make sure you get your best possible score.
Differences between the PSAT and SAT tests:
In general, most PSAT questions are slightly easier than most SAT questions, since the PSAT is intended for younger students.
Typically, this means that the PSAT features easier reading assignments and slightly less advanced SAT vocabulary; however, as always, verbal skills are still extremely important.
The math section of the PSAT is not as advanced as the SAT, with more material taken from Geometry and less from Algebra II (most students taking the PSAT will not yet be in Algebra II).
Get Exclusive SAT Prep Tips!
I want to send you more tips to help your SAT score, but I need your email address to stay in touch. Enter your email below so I can send you my reports on the SAT and other subscriber-only bonuses.
There is a difference in the length of each section and in the length of the entire test. The most significant difference is that the PSAT is almost half the length of the official SAT, which makes somewhat of a less tedious experience.
There is also no essay section given on the PSAT. That's right.. the SAT requires you to write an essay, but not the PSAT.
Similarities between the SAT and PSAT:
Aside from these differences, overall the questions are of similar difficulty and style, which means students gain valuable practical experience for the SAT by taking the PSAT.
Because these tests are similar, PSAT prep is similar to SAT prep, and many of the same resources and books will be invaluable to both. Sign up for our free mailing list if you'd like help to prepare yourself to achieve high scores on both tests!
Slight differences in timing and difficulty aside, the PSAT feels just like the SAT and any practice and strategizing on one test as well as overall reading and vocabulary skills will certainly carry over to the other.
PSAT, Test Prep, and College Admissions:
Often, taking the PSAT as a junior is the starting point for many students in their college-planning process.
The PSAT and SAT are important for students who wish to attend a post-secondary institution and anyone who wants to win scholarships and cut costs of college.
Your PSAT score will help you gauge where you stand in terms of academic standing and competition with other students—something that will have a bearing on acceptance to the school of your choice.
PSAT prep will also give you the experience and study habits you will need again when you take the SAT, not to mention the familiarity with the testing process. Consider the PSAT a practice run for the big test, another tool you can use to help you achieve high SAT scores.
By taking the PSAT you also qualify for the National Merit Scholarship (if you score in the 95th to 99th percentile).
This is only available to juniors so be sure you coordinate the PSAT to coincide with your junior status. You'll need to coordinate your PSAT study time to ensure you are ready when the test is given (in October every year).
The PSAT test takes 2 hours and 10 minutes, and does not include an essay or high-level math (algebra II).
Unfortunately colleges are not particularly concerned with your PSAT scores; however being recognized as a National Merit Scholar is a potential bonus during the admissions process and could lead to more scholarship money or financial aid.
What's on the PSAT?
On the PSAT test you will find:
Two 25-minute reading sections containing multiple reading passages
35 critical reading questions over comprehension, style, tone, and possible conclusions
13 sentence completions that test your pre-college vocabulary
Two 25-minute math sections on algebra, geometry, and reasoning
10 fill-in-the-blanks math questions
28 math multiple choice questions
One 30-minute writing skills section
20 sentence-improvement questions that test your ability to revise grammar mistakes
14 questions requiring you to identify a grammar error in a sentence
5 in-context paragraph-improvement grammar and style questions
Check out my test prep e-book collection for an in-depth review of common PSAT and SAT topics, as well as practice that greatly helps improve scores on both tests. Remember, they'll help you improve on BOTH tests and save you time and money.
How is the PSAT scored?
Scoring the PSAT is simple (it's a lot like scoring the SAT). You receive one point for every correct answer and you will lose .25 of a point for every incorrect answer.
Another bonus of taking the PSAT is the ability it gives you to determine a 'projected' score on the SAT.
Although the questions are generally not as difficult as on the SAT, this will still give you an idea of your abilities, where your strengths and weakness lie, and guide you in the right direction for SAT prep study purposes.
To determine your projected SAT score, simply multiply your PSAT score by 10.
Best PSAT Test-Prep Books: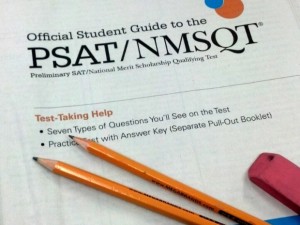 Once you've decided to prepare for the PSAT, I recommend that you pick up the Official PSAT Guide to the PSAT/NMSQT. This will be available from your guidance counselor's office in September.
The guide is important as it contains three main sections designed to help you prepare for the test.
Section one contains test-taking help; section two contains information about the National Merit scholarship; section three contains a full-length practice test.
Take advantage of all this guide offers to help you prepare.
My favorite option and recommendation is, of course, to order my books and video courses on SAT prep, which will not only get you in shape for the PSAT, but also provide the double benefit of improving your official SAT score later on.
Because the PSAT is basically a practice run for the SAT, you can increase your chances of achieving a high score on the SAT by first dominating the PSAT.
We have several of these available in our bookstore, all written by a perfect-scoring SAT author, and all designed to give you extensive practice, lessons, practice tests, and fully explained answers.
You'll learn how to get the right answer, what the right answer is, and why it's the right answer—all from someone who has mastered the tests you are about to take.  
Now order your copies of my SAT prep e-Books and start preparing for the PSAT today!
Further Reading:
What is the SAT Test for?
Is the SAT Hard?
How to Get a Perfect Score on the SAT
How to Get Into College: The Complete Guide
Additional Resources:
Shop my SAT Prep Book Collection (e-Books)
Conquer SAT Vocabulary (Video Course)
Winning College Scholarships for High Schoolers (Video Course)
Wait – before you go, have you signed up for my SAT prep email list? Subscribers get my best exclusive test-prep content and bonuses not available anywhere else!