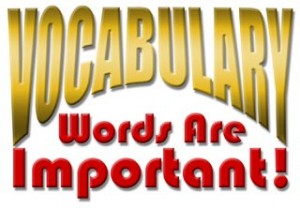 For more strategies on the SAT Reading section from a pro SAT tutor, be sure to sign up for my SAT mailing list to download the FREE Urgent Report on SAT Reading and other subscriber-only content!
I've been thinking lately about how best to use summer for SAT prep, since as you may know I'm a full-time SAT prep tutor in Austin, TX, and it's summer right now!
Most students aren't thinking about SAT prep during the summer (or maybe they're thinking about it but pretending it doesn't exist). Those who are thinking about SAT prep over the summer will come out ahead if they act.
One of the best ways to use a long stretch of time is to learn new SAT vocabulary words to improve your reading score.
Study SAT Vocabulary For The Long-Term:
It's very hard to "cram" vocab – almost impossible, actually. It takes long-term, dedicated practice and review to solidify new SAT vocabulary.
But, summer is perfect for that!
Say you have a 12-week summer vacation (about three months). If you learn eight new vocab words per day, Monday through Friday, for 12 weeks, without getting distracted, skipping days, or losing focus, you'll add 480 new SAT vocab words and your Reading score will, without a doubt, improve significantly.
Add eight words per day Monday through Friday, then use Saturday to review that week's 40 words, and take Sunday off. Every other week, take some time to review an extra 40 words from earlier weeks.
It's really manageable and every student can easily accomplish this, especially during the summer. Merely adding forty words won't make much of a difference to your Critical Reading score. But adding 480 words most certainly will.
Get Exclusive SAT Prep Tips!
I want to send you more tips to help your SAT score, but I need your email address to stay in touch. Enter your email below so I can send you my reports on the SAT and other subscriber-only bonuses.
Where To Get The Best SAT Vocabulary Info:
Use my Conquer SAT Vocabulary video course on Udemy.com as a great starting place.
I created that course, which contains nearly 2 hours of high-definition video lectures, to be specifically targeted to SAT vocabulary prep and what students can do to improve.
The course is normally $47 but for readers it's just $17. You can enroll in seconds at Udemy.com – just follow this link.
I've also included plenty of further reading at the end of this short article.
Don't waste any time! Add 8 new vocab words each day, Monday through Friday, for 12 weeks, and you'll see a significant increase in your SAT Reading score.
Of course, it's always important for high schoolers to be doing some free reading from a good book list – otherwise these vocab words just exist in a vacuum, with no connection to any actual reading you are doing in real life.
For more SAT vocab tips enroll in my Conquer SAT Vocabulary video course at Udemy.com!
Further Reading:
Why You Must Study An SAT Vocab Word List
The Best Way to Learn SAT Vocabulary
How to Crack SAT Vocab Questions
SAT Critical Reading Mastery Video Course Review
Great Recommended Book Lists for High Schoolers
Additional Resources:
Conquer SAT Vocabulary Video Course
Did you learn something useful or interesting from this article? If so, be sure to sign up for my SAT mailing list for your FREE Urgent Report on SAT Reading and other exclusive SAT-related bonuses just for subscribers.