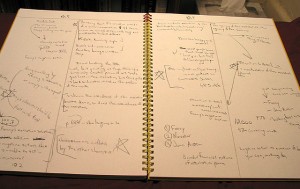 Thanks for visiting! While you're here today, be sure to claim your Free Urgent Report on SAT Critical Reading by joining my email list! In addition, I'll send you great subscriber-only bonuses to help with the SAT!
Today is June 4th, 2011 – the last SAT test date of the 2010-2011 school year!
In honor of the date, I wanted to write a little bit about the SAT essay, which after all, is the section that each and every SAT exam leads off with. Start strong on the SAT essay and you'll probably feel pretty good about the rest of test; crash and burn on the essay, and you'll be in a foul mood for the next 3 hours and 15 minutes!
What this means is that despite the simple nature of your assignment and the rather silly prompts you are given (plus the fact that no one will really spend a lot of time or energy reading your final essay) – nevertheless, this silly academic essay can matter quite a bit to your college and scholarship acceptance odds and your long-term life goals.
Here are some tips for the SAT essay to get you started. I've got much more to say about this topic in my essay prep books, but it's Saturday and the sun is shining :)  
1: Spend some time planning the SAT Essay
Planning for the essay takes two forms: First, you should prepare some flexible and effective evidence in the weeks leading up to the actual test (as well as a few pre-selected vocabulary words). Having names, events, and works of literature in mind will make it much easier to provide evidence to support your thesis.
A great way to develop your evidence is to get your hands on my SAT Essay Evidence Special Report.
Second, planning is crucial in the first few minutes of the SAT essay.
I know that you only have 25 minutes to write, and that you feel a lot of pressure to get started right away. However, a good essay outline will provide structure and guidance; when you get into the "thick of things," an outline will keep you on track with your writing and focused on your argument, which is crucial for getting a perfect score.
Get Exclusive SAT Prep Tips!
I want to send you more tips to help your SAT score, but I need your email address to stay in touch. Enter your email below so I can send you my reports on the SAT and other subscriber-only bonuses.
After I mastered the art of planning, I found that my SAT essay would almost write itself. It felt like a "Mad-Lib" (this reference will probably be lost on anyone reading in 2011) where the essentials were the same every time and I was just filling in the blanks with slightly different details.
Best of all, I was repeatedly scoring perfect-12s on my SAT essays.  
2: Fill both pages provided for the SAT Essay
The evidence is in – despite what the College Board says, essay length is the single-greatest predictor of a high-scoring SAT essay.
Here's a link to a New York Times article that says it all – this is crucial reading for anyone who wants to get inside the head of the SAT essay: http://www.nytimes.com/2005/05/04/education/04education.html
Aim to fill both pages completely, if possible. I know that your hand is tired, that it's early, that the prompt is stupid, and you've got nothing to say. I don't care. I want you to fight through the temporary misery and get a perfect 12, which will last forever. KEEP WRITING.
Don't give up on writing, editing, and improving until time is called! If you want help writing longer and more detailed essays, check out my guidebook to writing the best SAT essay of your life!  
And, if you want to naturally bulk up your vocabulary the same way I did as a perfect-scorer, you can enroll in my Conquer SAT Vocabulary Video Course at Udemy.com.
3: First appearances of your essay matter
If your essay looks great, the grader will have a good feeling about it from the beginning.
Use your best handwriting and clearly indent your paragraphs (and divide your essay so that it's not just one gigantic paragraph; 2-3 paragraphs per page is ideal.)
Length really comes into play here, because in a world filled with apathetic students, the rare student whose essay that fills both pages will stand out. It's impressive.
Finally, it doesn't hurt to drop an awesome vocab word or three in your introduction paragraph; it will let the reader know that they're dealing with somebody really smart from the very start! Just make sure you know your vocabulary cold, or it will backfire.
If you took the SAT today, congratulations and I wish you all the best with your college and scholarship applications! Take the rest of the day off :)
Further Reading:
How to Write (and Ace) the SAT Essay
4 Tips for a Better SAT Essay
5 Common SAT Essay Mistakes to Avoid
Why You Simply Must Study an SAT Vocab List
SAT Essay Article Archives
Additional Resources:
Top 30 Examples to Use as SAT Essay Evidence (e-Book)
Write the Best SAT Essay of Your Life (e-Book)
Conquer SAT Vocabulary (Video Course)
Winning College Scholarships for High Schoolers (Video Course)
Before you go, be sure to join my SAT mailing list to download the Urgent Report on SAT Critical Reading, receive exclusive subscriber-only content and get other SAT-related bonuses!