While you are here be sure to join my SAT mailing list – I'll send you the Urgent Report on SAT Reading and other subscriber-only exclusive content!
As a professional, independent SAT tutor, and a perfect 2400 scorer on the SAT, I have definitely done my background research – for years – on what SAT prep books are the best, and which ones barely help at all.
Here are a few quick reviews of the BEST SAT prep books on the market, why they're the best, and how to use them effectively.
I've also included a link to Amazon for each book so you can purchase them quickly and easily!
BEST SAT Prep Book Review #1:
The Official SAT Study Guide on Amazon.com
Why it's the best: This is THE bible of SAT prep books. It has 10 full-length practice tests, which adds up to hundreds and hundreds of practice problems for each section of the SAT: Math, Critical Reading, Writing, and the essay. That's way more practice than most students will ever do, so this SAT prep book has you covered. It's definitely one of the best bargains, too – it's very reasonably priced.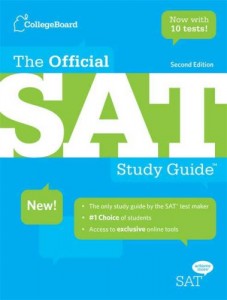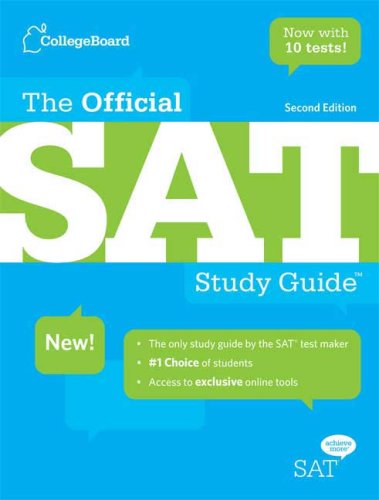 How to use it: Take at least one full-length, timed SAT practice test on a weekend morning, and score yourself. This will give you a feel for how much endurance the SAT exam requires and how you will score on it. It also will identify and expose your SAT weak spots.
Also, make a regular habit of doing individual SAT practice sections with a timer. They are only 20 to 25 minutes long and you can easily fit one in to your busy schedule, if you make an effort.
Get Exclusive SAT Prep Tips!
I want to send you more tips to help your SAT score, but I need your email address to stay in touch. Enter your email below so I can send you my reports on the SAT and other subscriber-only bonuses.
Don't worry too much about all the explanations at the beginning of the book, unless you're a total newbie to the SAT. Use this excellent SAT prep book for the most realistic and accurate SAT practice problems and sections.  
More Resources for Overall SAT Skills:
Visit My Online SAT Bookstore
Griffin SAT: A Complete Course on Acing the SAT (Video Course)
BEST SAT Prep Book Review #2:
Top 50 Skills for a Top Score: SAT Math on Amazon.com
Why it's the best: I was so incredibly happy to finally find a well-organized, clearly-explained list of virtually all the Math topics the SAT will ever test, along with practice questions ranked by difficulty.
Brian Leaf is an exceptionally gifted SAT prep book author and his books are a godsend to any student (or tutor!) getting ready to take the SAT. It covers everything you need, and nothing that you don't.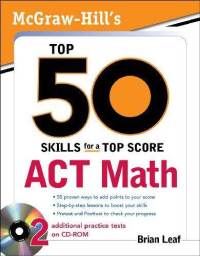 How to use it: There are 50 lessons in this book, along with a pre-test and a post-test. Take the pre-test first (it has one question for each of the 50 types of math problems) and use it to diagnose your weak spots. Then, go right away to those topics in the book and figure out what you're doing wrong.
After that, start working through the rest of the book. Every single page has valuable information that you might not realize about the SAT math section, even if you think you know a topic cold. After all, the SAT math section frequently tests familiar topics in very unfamiliar ways, and Brian Leaf knows all their tricks.
When you've worked through the book to your satisfaction, take the 50-question post-test and see if you've truly mastered the math. Rinse and repeat on your weak points!  
More Resources for SAT Math:
SAT Math Mastery Level 1: Perfect-Score Fundamentals
SAT Math Mastery Level 2: Tougher Tricks and Skills
Power 800 SAT Math Mastery Video Course
Pwn the SAT Math Guide
BEST SAT Prep Book Review #3:
Top 50 Skills for a Top Score: SAT Critical Reading and Writing on Amazon.com
Why it's the best: Yup, Brian Leaf made it onto this list twice. Keep in mind that I've probably been through about 20 different SAT prep books and authors as a student AND a tutor… this guy REALLY has it together. Again, Leaf dissects the SAT test and breaks it into easily-managed chunks, and each page has "aha!" moments that other authors simply can't match.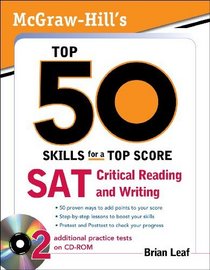 How to use it: Yup, another 50 lessons, and a pre-test and post-test. Do the pre-test first, identify your weak spots, and do those lessons first, before working through the rest of the book. No matter how strong you feel about grammar, I recommend carefully working through each of the grammar lessons in the book.
Don't forget to practice his essay advice, too – in my experience, students like to sweep the essay under the rug when it comes to practice. Spend a little time prepping your SAT essay, and test day will go down a lot smoother.    
More Resources for SAT Verbal Skills:
SAT Grammar Crammer
Write the Best SAT Essay of Your Life!
Top 30 Examples to Use as SAT Essay Evidence
The Ultimate Guide to SAT Grammar

Before you go today, be sure to sign up for my SAT email list to download free subscriber-only content like my Urgent Report on SAT Reading!