Welcome to my SAT Prep Bookstore!
In my online bookstore, you can purchase digital e-book copies of my original prep books, which will be sent instantly to your e-mail inbox, no matter where in the world you live.
If you order more than one book at a time, you will receive an instant discount that gets bigger with each additional e-book you order. The more you buy, the more you save!
Consider the price of buying these e-books vs. the cost of tutoring, and you'll see that you can achieve the same results while saving hundreds or even thousands of dollars.
All e-books come with a 30-day, no-questions-asked money-back guarantee!
Package Discount Details:
Buy 2 eBooks, get 5% off your entire order!
Buy 3 eBooks, get 10% off your entire order!
Buy 4 eBooks, get 15% off your entire order!
Buy 5 eBooks, get 25% off your entire order!
Available SAT Prep e-Books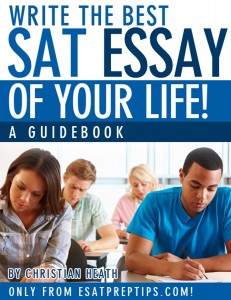 A 33-page guidebook to writing a perfect SAT essay. Includes a complete overview, frequently-asked questions, sample prompt list, comparison of a great essay and a poor essay, practice worksheets, and my own personal strategies for consistently getting a stress-free perfect score on the SAT essay section. Only $9.95.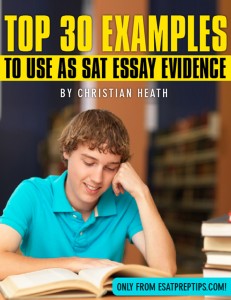 30 examples from a broad range of subjects to use as evidence when you write the SAT essay. Each example comes with a summary, an analysis of relevant themes, a related vocabulary word, and key facts. I've done the research so you don't have to. Makes a great companion to Write The Best SAT Essay Of Your Life! My most popular guide. 69 pages, $9.95.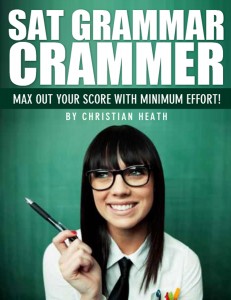 Let's face it – studying grammar is boring and tedious. Use this textbook to increase efficiency and make the process painless. Features a unique "pretest" to identify your weak spots, 250+practice questions, and 12 grammar lessons. Study only what you need with expert-level guidance. 198 pages, $19.99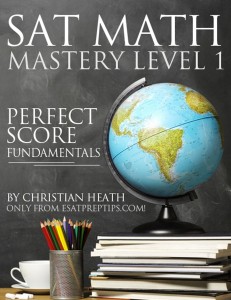 It's not that hard to improve your math score if you just know what to practice and where to begin studying. This book is a great place to start if your math score is below a 500. Includes diagnostic test, covers 20 critical topics. 97 pages, $14.99.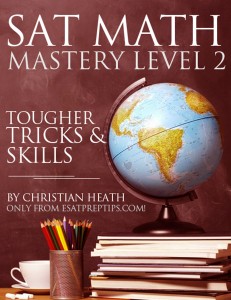 A great book for high-achieving students that are already strong in the math basics. For students scoring in the 500-700 point range in the math section. Also makes an excellent follow-up book for anyone who's finished up my Math Mastery Level 1 book. Includes diagnostic test, hundreds of practice problems, 20 major topics. 85 pages, $14.99.