Consider yourself lucky… for you will never have to spend as much time on SAT prep as I have.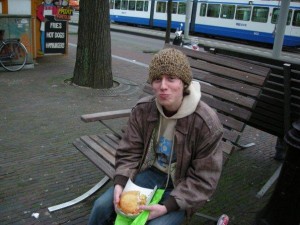 My name's Christian, and I'm told that I'm great SAT prep tutor. Let me tell you the two main ways that I can help you out:
You can get a perfect score on the SAT with my help

You can ask me any question you want about the SAT (just

join the mailing list

!)
Bold claims, perhaps, but I believe I can back them up. Why? Well…
Here's why you can trust my expert SAT wisdom:
Gotten a perfect 2400 on the SAT (most recently on October 1, 2011)

Started a successful independent SAT tutoring company
Personally taught SAT prep to over 200 students
Logged more than 2000 hours of one-on-one SAT prep teaching
Written

FIVE original textbooks

on SAT prep
Written an SAT prep blog that draws 15,000 visitors each month
Basically, I've been called something of a "whiz kid" all my life, and I've devoted a lot of my time since graduating from college to busting the SAT for the success of my students and my business.
It's been "sink or swim." Without any other employer, life savings, trust fund, or fall-back plan, I've simply relied on my teaching abilities, my test-taking experience, and my deductive reasoning to figure out the entire SAT from cover-to-cover.
What's the point of SAT Prep?
I've gotten a unique perspective on this question that might surprise you, having been both a serious SAT prep student as well as a devoted (and entirely self-employed) SAT prep tutor for the last 4 years.
SAT prep serves different purposes for different people. The main people that matter, though, are the students and the parents.
There's at least one thing I can say, though: In this day and age, disciplined SAT practice is a requirement for the serious student and his or her parents.
Get Exclusive SAT Prep Tips!
I want to send you more tips to help your SAT score, but I need your email address to stay in touch. Enter your email below so I can send you my reports on the SAT and other subscriber-only bonuses.
What do parents need?
Parents want to be reassured that they're following the right steps to register for the SAT.
A parent always wants to make sure they're on the right track, doing the right things at the right time.
Parents need guidance about the details of the SAT and I frequently spend time with them answering specific questions such as:
"What month should my son take the SAT and why?"
"How can my dyslexic daughter get additional testing time?"
"What scores do we need to reach to get National Merit?"
But what do students need?
Students, on the other hand, need professional SAT prep to stay motivated, review, practice, and banish fear. Students don't even know what to ask.
A lot of my time with students is spent simply keeping them focused and on-track. I also am a glorified homework-checker for some kids.
Because the SAT does not test very advanced topics – instead, it uses tricks to make old topics more difficult – I don't spend much time "teaching" new material, but rather reviewing old material with them.
Most of all, I think I get the greatest pride when a student says they feel more confident about the SAT. Of course, some of them phrase is as "feeling less afraid." But, you know.
In the end, the SAT test has developed a terrifying reputation that it doesn't exactly deserve. Sure, it's tough, but parents and educators put so much pressure onto students that I'm not surprised when they're almost ready to burst into tears in my office.
I might be really good at raising scores, but what I really enjoy is lowering stress.
Why do you think the SAT matters so much?
That's a complicated question, but we can at least all agree on one thing – standardized testing is here to stay for the foreseeable future.
It's not perfect, but the SAT test allows college admissions offices at least a decent chance to evaluate a student's performance, particularly in comparison with other kids from around the world.
Right now, times are tough, jobs are scarce, and the future seems uncertain. There's only one investment that anyone can really be sure of anymore, and that's an investment in education.
In the new competitive global environment, more and more students and parents are turning to SAT prep as a way to secure a spot in an elite college and go on to a distinguished and high-earning professional career (of course, this takes a lot of work even after the test is over!)
The SAT matters because college matters. Plain and simple.
What 3 things should you do while you're here?
#1) Join the list
Well, I recommend that the very first thing you do is join the SAT e-mail list. That's going to help get you settled with a brief and instructive 7-day mailing list.
It's also totally free, and you get a bunch of free bonuses just for joining. In fact, some of my most urgent advice is contained in the e-mail signup bonuses. Again, you get this stuff for free so it's pretty much a no-brainer that you should sign up if you are actually serious about improving.

#2) Read some popular posts:
After you join the mailing list, I recommend browsing the Popular Posts listed in the right-hand sidebar to see what other people are reading, and from there you can just browse at your leisure and learn all about the SAT exam.
People from all over the world have read and commented on my posts (there have been visitors from over 160 countries and territories!) – I'd love it if you joined in the conversation or asked any questions that you had!
#3) Check out my e-books:
Last but not least, you can buy my e-books and I think they're a great value for any student or parent who is committed to quality SAT prep, plus you get to instantly download them from anywhere in the world.
These books literally represent the product of hundreds and probably thousands of hours of experience from a full-time multiple-perfect-scoring SAT prep tutor and textbook author.
Now I know you can understand the value of that! So if you seriously want to get started prepping today you can download the e-books from the bookstore.
Thanks for stopping by!