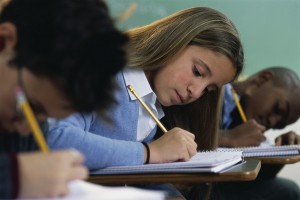 Looking for specific examples to use on the SAT essay, or for a guide on how to write the SAT essay? Follow those links to get a pro tutor's perfect-score tips!
Because the time limit on the SAT essay is so short (only 25 minutes to answer a random prompt!), it is crucial to have good examples for the SAT essay planned out ahead of time.
Good examples for the SAT essay often come from history and literature. Personal experiences can also make good examples and evidence to support your SAT essay.
The most important thing is to have at least 5 examples prepared before you even sit down to write the SAT essay, and 10 examples is even better.
Then, when the time comes to write the SAT essay, you have a powerful bank of evidence to draw on, and you're guaranteed to have something to say about almost any topic – plus, you'll be able to back it up with cold, hard facts!
This style of writing is bound to impress the SAT essay graders and improve your SAT score; plus, it makes test day so much less stressful.
It's a trade-off: prepare your good examples for the SAT essay ahead of time, and you will get a higher score and have less stress later.
I've spent a lot of time digging up great examples to use as evidence on the SAT essay.
I've provided many of them for free, and compiled even MORE evidence into a special report at a true bargain price.
Get Exclusive SAT Prep Tips!
I want to send you more tips to help your SAT score, but I need your email address to stay in touch. Enter your email below so I can send you my reports on the SAT and other subscriber-only bonuses.
To gain access to that special report on good examples for the SAT essay, just click the link to learn more!