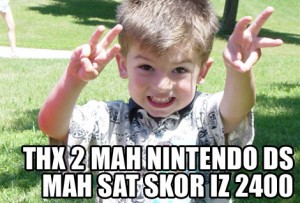 What can you do with a perfect SAT score? Win scholarship money, get into better colleges, and build your self-esteem and confidence. Be sure to join my email list for free SAT-related bonuses!
My combined SAT score was a 2390 as a high school senior. 10 points short of a perfect score… an 800 in Verbal, a 790 in Math, and an 800 on the Writing section.
This put me in the top .1% of the nation that year and getting into an elite college felt like a breeze.
A lot of that was because of my parent's foresight, but there were a lot of other ingredients that went into it as well.
Update: 11/5/2011 Well, on October 1st, 2011, I took an official SAT for the first time since high school and got a perfect 2400! Here's the proof:
I want to share with you just how I got those high SAT scores and break it down for you. What leads to a high SAT score? How do you naturally get a near-perfect score on the SAT?  
How I got a near-perfect score on the SAT:
As I said, my combined SAT score was a 2390 as a high school senior, and I achieved that 99.9% high score through four things:
A lifelong intellectual curiosity
Finding a great SAT tutor
Independent SAT practice
Parental support and guidance
Let's break it down.
Get Exclusive SAT Prep Tips!
I want to send you more tips to help your SAT score, but I need your email address to stay in touch. Enter your email below so I can send you my reports on the SAT and other subscriber-only bonuses.
1. A lifelong intellectual curiosity
On the surface, this seems pretty hard to learn. But it's really not – intellectual curiosity is just "putting in the effort" to learn new things every day.
When you wonder what somebody is talking about, ask them! When you don't know a word you see, look it up right away! Don't be satisfied leaving the unknown undisturbed. The more you know, the more deeply enjoyable life becomes.
Now put this theory into practice for your SAT prep. Go to my SAT prep bookstore and download the books that interest you or intimidate you. Learn things every day in the form of SAT vocab flashcards and extra personal reading outside of school.
Read an article in Time, Newsweek, Sports Illustrated, the Wall Street Journal, any well-regarded periodical that pushes you to be a better reader. Become fluent in the clear, concise, and insightful essays that you can find in such publications. Find your math weak spots and practice them.
Practice intellectual curiosity daily – you life will be richer and your SAT score will be higher!
2. Finding a great SAT tutor
Well, this isn't a problem – you've found me!
I see myself as a professional with a professional skill-set. After dominating this test personally (with the help of an excellent but extremely expensive one-on-one prep tutor at my parent's expense and urging) I learned to break it down for other students and offer effective advice that anyone planning to take the SAT can benefit from.
After college I taught SAT and ACT prep in both large-class and one-on-one situations. Over time I developed unique and powerful tools, strategies, and ways of looking at SAT prep. Then I began to systematize these tools and offer them to the rest of the world via the internet.
I also spend hours a day improving my SAT prep methods, tutoring the SAT, and synthesizing all the common-sense knowledge and fundamental strategies that make up the foundation of all successful SAT test prep into concise and clear articles that help you improve your score on the SAT.
In recent years I've started a second company and trained a small team of brilliant tutors who are very popular. If you want personalized 1-on-1 online SAT tutoring please check out our services or contact us today!
You've definitely found a great instructor to help you prepare to take the SAT and I hope you have a chance to download a few of my books. Make sure to sign up for my mailing list before you go today to get more exclusive SAT prep tips delivered straight to your inbox.
3. Independent SAT practice
OK, here's where your hard work and determination come in. I always say that the SAT is not a measure of intelligence, it's a measure of heart.
How badly did I want a jaw-dropping score on the SAT? The idea fascinated me – I saw how much power I would have in my college selection process – I could get into the best schools in the nation and write my own ticket in life.
Other students complained about how boring and long the test was – they saw test prep as something taking freedom away from them. Meanwhile, I saw a direct connection between earning myself a high SAT score and having more freedom in the future – and I was right!
SAT practice takes heart. Think of me like your SAT coach and let's try out a sports analogy. If I were your volleyball or football coach, I could show you the drills, offer my expert advice and experience, help identify your trouble spots, and provide discipline, motivation, and structure…
But I can't sweat for you – I can't lift the weights for you – I can't eat right for you or make good decisions for you.
Independent SAT practice is getting the Blue Book and doing two sections a week. Independent SAT practice is finding your personal best SAT essay examples and using them again and again in practice essays until you have mastered the use of your evidence.
SAT practice is taking the test an extra time at that terrible and dreaded "9 AM next Saturday," chasing your highest potential score. Et cetera.
Independent SAT practice is crucial to a score improvement of any amount whatsover. And it's all on you – it's your chance to shine and write your own ticket!
4. Parental Support and Guidance
Ok – you can obviously get a perfect SAT score without parental support, but every little thing helps and I know my parents helped me.
Although my parents annoyed the heck out of me at times in high school, they drove me to memorize hundreds of new vocabulary words and provided an exceptional SAT tutor for me. They knew what was best for me after all!
Get your parents involved, or if you are a parent, help your student out. Work on vocab together, make suggestions about interesting reading, or ask for advice… you're a team, working together to beat this test!  
To summarize the four factors of my own perfect score on the SAT:
Intellectual curiosity
Great SAT tutor
Personal SAT practice
Parental guidance
Those are the four crucial ingredients that helped me achieve my (almost-) perfect score on the SAT, and I guarantee you that anyone who makes use of these four forces will improve their scores as well! Now, go download my SAT prep books and get started improving today.
Additional Resources:
Download my SAT Prep textbooks
Winning College Scholarships for High Schoolers Video Course
Advice on SAT Vocabulary Lists
Ideas for personal free-reading book lists
Don't forget to sign up for my SAT email list before you go for a FREE Urgent Report on Critical Reading and other bonuses and exclusive content!