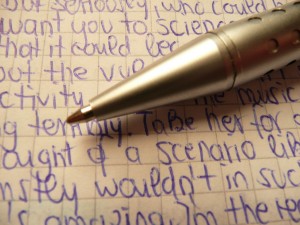 Looking for expert tips and score-improving advice on the SAT Essay section? Be sure to join my SAT prep mailing list – I'll send you exclusive test-prep content you can't find anywhere else!
MIT professor Perelman's controversial study on SAT Essay length and score:
A controversial 2005 study by an MIT professor named Les Perelman found an obvious and direct correlation between essay length and score on the new SAT essay.
Essentially, he became able to predict the score of an SAT essay by simply glancing at its length; he claimed that this single judgment was accurate 90% of the time.
How long your SAT essay is partially determines your score:
This makes sense to me, because generally more words is associated with more effort, and effort on schoolwork is associated with intelligence – all this takes place subconsciously in the mind of the essay grader as they form instant judgments about you from the moment they glance at the outline of your essay (for example, your handwriting and your use of vocabulary probably affect their first impressions almost as much as the length of your essay does).
The SAT essay grading rubric might not mention essay length specifically, but the proof is in the pudding: long essays have a better chance at a great score.
It's also my own personal experience that longer essays make it easier to score higher, as the 12-scoring essays I wrote as a high school senior were almost two pages long (on the SAT, you're limited to two pages at most).
My SAT prep students also score higher when they write longer essays, so deliberately writing a longer essay is one of my Top 10 SAT Essay tips.
How to write a long SAT essay:
Once you practice writing four or five timed essays using the five-paragraph format with evidence prepared ahead of time, it's not hard to get close to filling both pages.
While it is surely possible to write a 12-scoring essay in one page, and potentially less, my stance is that it is a risk, a gamble, and surely you have enough time to write more, if you have done any kind of serious advance preparation.
Get Exclusive SAT Prep Tips!
I want to send you more tips to help your SAT score, but I need your email address to stay in touch. Enter your email below so I can send you my reports on the SAT and other subscriber-only bonuses.
You can prepare in advance to write a long, high-scoring SAT essay by planning and memorizing your SAT essay examples, which you will use as evidence. Make sure to check out that link as it will really help you write a longer and better SAT essay.
I wholeheartedly recommend to my students to write no less than a page and a half for any SAT essay, using the basic five-paragraph structure.
Also recommended: get a copy of my original SAT essay book to learn my personal tips, tricks, and methods to easily get a great score.
A warning about SAT essay length:
Length alone is not a substitute for substance.
You must be saying something new with each sentence in your body paragraphs, rather than spouting empty, reworded fluff. That's half the reason we memorize facts.
When you prepare in advance by memorizing examples and evidence, and deliberately improving your SAT vocab in advance, you make your life much easier on the day of the real SAT essay. 
By spouting off the facts we have memorized, we continually add support to our thesis while filling our body paragraphs with anything but "fluff."
In contrast to the majority of weak, fluffy essays from other students, your cold, hard facts – in the form of names, dates, consequences, and description – will make your argument seem bulletproof and your details vivid and powerful.
Meanwhile, these same facts fill line after line with information and cool vocabulary that requires little (time-consuming) critical thinking on our parts – leading to a naturally longer essay.
Just avoid "obvious" attempts at space-filling like using huge handwriting (although using slightly larger handwriting than usual is a wise strategic choice) or writing the same lengthy fact in two different places.
These tricks might tip the SAT essay graders off to your attempt to fill the page without any worthwhile information, and your tactic may backfire!
Learn how to write a longer, better SAT Essay and get a higher score:
If you're serious about improving your SAT essay, you need to get a copy of my two books on this topic: One on SAT Essay Evidence and the other on SAT Essay Strategy.
You should also enroll in my Conquer SAT Vocabulary video course for two hours of high-definition video and supporting materials to help your natural verbal skills improve.
I've scored a perfect-12 on the SAT essay and teach my students to do the same (my day job is full-time professional SAT prep tutor). You can save a great deal of time and money by reading my books and absorbing the tips contained within them.
Now head to the online bookstore to order your copies of my SAT essay e-books!
Further Reading:
What is the SAT Essay?
How to Write a Great 5-Paragraph SAT Essay
Top 10 Tips for the SAT Essay
Four (More) Tips for a Better SAT Essay
Additional Resources:
Top 30 Examples to Use as Evidence for the SAT Essay (e-Book)
Write the Best SAT Essay of Your Life! (e-Book)
Conquer SAT Vocabulary (Video Course)
Wait! Did you learn anything interesting or useful from this article? If so, be sure to join my SAT email list before you leave today – I send my subscribers exclusive test-prep content that's not available anywhere else!