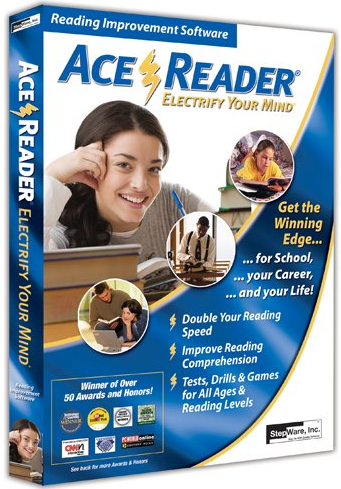 As an SAT tutor, I often find my high-school-age students expressing frustration about their slow reading speeds.
I've always wanted to help them, but I wasn't sure how; improving reading speed and comprehension was outside of what I knew how to teach.
So… I've spent the last two months reviewing the best speed-reading and reading comprehension products on the market, and I've found my number one favorite in Ace Reader Pro. 
Ace Reader Pro Review – Overview:
In my opinion and research, Ace Reader Pro reading software has no equal competition on the market. It's simply the best I've tried.
Ace Reader software is effective, easy-to-use, effective for all ages, versatile, and yes… even kind of fun. It helps bust through old reading limits and overcome crutches like sub-vocalization and regression, or inefficient re-reading.
It has ten flawless, five-star, glowing reviews on Amazon that say the same thing, and is also used nationwide by Sylvan Learning Centers. One of the great things about purchasing this speed-reading software is that you don't have to take my word for it – everyone who reviews this software gives it two-thumbs up.
It's also the most widely-used reading improvement software in the world –used by the US Air Force academy and hundreds of learning centers around the world.
After hearing all these great reviews of Ace Reader Pro software, I decided I had to try it out myself, and contacted the company for a review copy, which they gladly provided.
Get Exclusive SAT Prep Tips!
I want to send you more tips to help your SAT score, but I need your email address to stay in touch. Enter your email below so I can send you my reports on the SAT and other subscriber-only bonuses.
Ace Reader Pro Review – First Impressions & Ease-of-Use:
First – let me say, this is a classy company. They are known for their excellent and speedy customer service, and I will vouch that this is true from personal testing.
They also offer a 100% 30-day money back guarantee, so you really can't go wrong trying Ace Reader out.
The program was instantly e-mailed to me, and downloading and installing it was extremely quick and simple. No problems here.
Upon opening the program, I found it refreshingly clear and easy to understand –especially compared to the other two speed-reading programs I had reviewed that week.
The Ace Reader overview recommended starting with "Course Mode" and working for 15 minutes a day until you finish the course.
I started with "Course Mode," but ended up enjoying the product so much that I spent half an hour with it!
In the end, I worked about 30 minutes every other day for 10 days and finished the course, with remarkable results.
It's very easy to get started making progress right away. All you have to do is sit back and follow the directions through about 60 short drills and exercises.
There's really no place to get confused; just proceed at your own pace and Ace Reader Pro will tell you what to do.  
Ace Reader Pro Review – Results:
Customer service, ease-of-use, glowing testimonials… none of this would matter if the program didn't deliver on the reading improvements it promises!
My first reading test put me at 714 WPM with 100% comprehension, which is about what I expected. By the time I was finished with the Ace Reader Pro course, 10 days later, I was routinely hitting 1100 to 1200 WPM with 100% comprehension.
I mean, just check out the Reading Speed graph below!! Wow!
My highest speed was 1236 WPM… a 522 WPM increase, or almost double the speed I started at… and that was after less than 3 hours of practice. Bottom line: Ace Reader Pro got results for ME, easily, and in a short time – almost doubling my reading speed within 10 days.
Ace Reader Pro Review – How does it work?
Ace Reader Pro breaks down into 3 modes: Course Mode, Menu Mode, and Expert Mode.
Course Mode, where you will probably spend most of your time, is a guided, self-paced speed-reading course that constantly adjusts to your current reading level. You just follow along with the instructions and do your best, and your reading skills are improved by a variety of drills and tests.
For example, some drills provide eye-movement training; you follow moving images or words around the screen. Other drills improve your peripheral vision, so you can take in more words at a glance. Yet another style of exercise presents the same short text at 4 different speeds, from slower to very, very fast.
All you're asked to do for this kind of exercise is do your best to follow along with your eyes, and not worry about comprehension. It's more like a "stretching" or warm-up exercise.
One of my favorite drills flashes three words, spread out across the screen, and you have just one instant to decide if the words are similar in meaning or different. This forces your eyes and your brain to move at warp speed.
Another favorite has you rapidly scanning lists of words and names to find the one word you're looking for – I think this is extremely effective for SAT students who need to skim passages for information.
The scanning exercise is also 100% relevant to today's information-based world; how many websites have you wasted valuable minutes on, only to find that they didn't answer your question? Imagine that wasted time becoming a thing of the past, because you've learned to scan effectively!
Menu Mode allows you to pick and choose your favorite exercises, drills, and reading tests, and work on your weak points. It even offers a bonus flash-card game in the Pro Deluxe version that can help you study SAT vocabulary!
Expert Mode offers a ton of extra features . This is a good place to go after you've mastered the basic software. In Expert Mode, you can load your own texts, and set customized personal goals. It helps you increase your WPM rate while doing the reading that interests you!
Ace Reader Pro Review – Who should use this program?
As I mentioned, I was looking for a program to help SAT students read faster and improve their Critical Reading scores. If that sounds like you, definitely get this software and start using it right away. You won't regret it.
But plenty of people will benefit from Ace Reader Pro as well, like:
Businessmen
Engineers
Busy parents
Educators
Young Adults
Retirees
Avid readers of all ages – anyone who wants to read faster and remember more will benefit from Ace Reader Pro. Seriously.
It's completely risk-free, since you can return it within 30 days for 100% money back… … and keep in mind the massive improvement I saw in only 10 days.
30 days is more than enough to see awesome results.  
Ace Reader Pro Review – Value:
There are two versions of this software. Ace Reader Pro costs $69.95, and Ace Reader Pro Deluxe is $99.95.
The Ace Reader Pro Deluxe version offers some great upgrades like multiple user accounts, customization of tests and drills, higher-level vocabulary, and a "more aggressive triple-speed course."
If you have more than one person in the house that wants to use the software, go for the Deluxe version… otherwise I honestly think you'll be just fine with the regular version.
$70-$100 for reading software can seem pricey at first, but can you imagine the expense of hiring a reading tutor to work with you for hours and hours? I'd estimate the equivalent amount of reading tutoring to cost $400 or even more, if you can even find someone who knows what they're talking about!
I view the price of this reading improvement software as an investment in yourself and your education.
If you're an SAT student, it can really help improve your SAT score. If you're an adult, it can earn you a raise at work, or cut down on your workload…
And what about personal enrichment – how valuable is it to read all the classic books you've always been interested in?
As an avid, daily reader myself, I think reading skills are truly priceless. I highly recommend downloading your copy of Ace Reader today.


Ace Reader Pro Review – Additional Testimonials:
I know how tough it can be to know who to trust online, so I went ahead and gathered some of my favorite reviews, testimonials, and quotations about Ace Reader Pro from across the internet!
Although I earn an affiliate commission on these links, keep in mind that NONE of these reviews are from people who earn money from Ace Reader.
Other than trimming them down to size, I have changed nothing from these reviews – they are presented as they were written by independent customers and reviews:  
Ace Reader Reviews from Amazon.com
5 Stars: "If you are looking for a program that really works, this is it! The first week I was able to substantially increase my reading speed while maintaining a high level of comprehension… the games are challenging but fun to play… I highly recommend this program to anyone (young or old) that wants to improve their reading skills." – Roger E. Dumay, Winsor, CO.
5 Stars: "Ace Reader Really Works! My twelve year old requested this product and loves it. He practices and times his comprehension and speed each day. Great way to encourage more reading for pleasure!" – L. Ryan, Boston, MA.
5 Stars: "Excellent product, excellent value, great support team! I find this product to be excellent… I run a software company and am working on another Master's degree at night so I have a lot of reading to do… I feel [Ace Reader Pro] increases my reading efficiency significantly – like stretching exercises before a run." – Steve from Texas
5 Stars: "Great program, and incredible customer service! I'm not one to review often, but I feel the product and company deserve it…. I can see why so many schools have implemented it into their curriculum." – Benny
5 Stars: "Great software & Excellent Customer Service! We were so immediately impressed with its potential that we purchased copies for some family members. In a short time after using Ace Reader, our reading speeds have easily doubled and our reading comprehension has improved as well…"
5 Stars: "Helped Increase Test Scores, I bought this product to help my high school aged son improve his ACT test scores… his scores did improve after spending  a couple months working with this product."  

Ace Reader User Testimonials from the Ace Reader Website:
"As a speed reading instructor… I have evaluated many software programs over the years. However, once I found AceReader Pro, I knew I didn't need to look any further…" – Miriam Ruff, Certified Learning Centers, Silver Spring, MD
"AceReader Pro is a great buy!.. It is fun, easy to use, kid and parent friendly… no-nonsense, workhorse that actually helps improve reading speed and comprehension in as little as 10 minutes a day… it just keeps getting better….
I have recommended AceReader for kindergartners and lawyers alike!" – Alison O'Fallon, Reading Specialist and Education Therapist, Los Angeles, CA
"AceReader is still the single most important academic tool I have ever purchased including both my undergraduate and post graduate degrees…" – Professor Ken Ward of American Intercontinental University, Los Angeles, CA
"Ace Reader will continue to be my 'secret weapon' for guiding student success and for battling my own standardized test stress!" – Dawn Marie McCrea, Boise, Idaho  
A sixth-grade teacher did an independent research project on the effectiveness of Ace Reader in her classroom  – get the full text here
A teacher did a scientific study on the effectiveness of this software and found statistically significant results proving that it worked. Page 13 of this research paper affirms "Reading Rates from AceReader Pro Software displayed a steady upward trend."
The best part is on page 14 when her students cheered when they found out they would be using Ace Reader software twice a week instead of just once!
We find "support for the student's pleasure at being able to use the speed-reading software. Upon the revelation of an increase to two sessions using the software per week for each student, several students exclaimed "Yes." Others pumped their fists in the air, and many smiles were noted…"  
Ace Reader Pro Review – The bottom line: it works!
What more can I say? Ace Reader Pro is currently by far the best speed-reading practice software I've found, and hundreds of individuals, organizations, and professionals across the world agree. Get your copy of Ace Reader today!

If you're still on the fence, be sure to sign up for my email list and get FREE exclusive subscriber-only content and instant downloads! Click here to learn more.