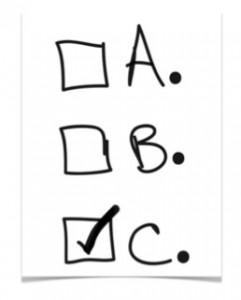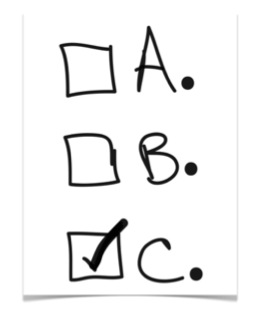 I'm a pro SAT tutor and perfect-scorer! Welcome to my blog – be sure to join my SAT email list while you are here for subscriber-only exclusive content to help you prepare!
Pssst… wanna know a secret about the SAT Writing section?
You may not believe this, but I swear it's the truth. Why should you listen to what I'm about to tell you?
Well, first… because I'm an expert on the SAT (solo author of this entire website, professional SAT tutor, perfect 2400 scorer, and author of four SAT prep textbooks).
But, second, because this secret is going to improve your SAT Writing Multiple Choice section score!
Once you know this secret, you'll not only know how to improve your Writing multiple-choice score, you'll also be motivated to improve it!
Good news about improving your SAT Writing Multiple Choice score:
Ok – ready to hear the good news?
Here it is: The SAT Writing Multiple-Choice section is the EASIEST SAT section to raise your score in.
The. Easiest.
Get Exclusive SAT Prep Tips!
I want to send you more tips to help your SAT score, but I need your email address to stay in touch. Enter your email below so I can send you my reports on the SAT and other subscriber-only bonuses.
Let's look at a few realities about the SAT to see why this is:
Why improving in SAT Writing Multiple Choice is easier than in Critical Reading:
Want to improve in the Critical Reading section? You should immediately start studying hundreds of new vocabulary words. You'll also want to spend plenty of time free-reading to improve your reading speed and comprehension.
Reading ability is a life-long skill, and it develops pretty slowly, kind of like playing the piano or excelling at soccer. There's no quick fix for reading difficulties.
Ok, now that you're learning vocab and reading more, you'll need to spend time developing your note-taking strategy, which also means you need to practice your pacing, so that you don't run out of time before you've been able to answer the questions.
And… even after all this work, you still haven't even started practicing the actual Critical Reading questions, which is a whole new ballgame – you'll need to work on answering the questions in your own words, and most of all, develop your skill at analyzing the answer choices and eliminating them. This concept alone is enough to spend hours practicing with a professional SAT tutor like myself.
So that's what needs to happen to improve your SAT Critical Reading score.
It's definitely not easy or quick – unlike the SAT Writing Multiple Choice!
For crucial, time-sensitive information about improving your SAT Reading section, be sure to download my free urgent report, which is included with your SAT mailing list membership.
Why improving in SAT Writing Multiple Choice is easier than in Math:
Ok, what if you wanted to raise your SAT Math score instead?
Here are some of the obstacles you'd be facing: The SAT Math section covers 30+ math topics, from basic to advanced, that you may have learned anywhere between 3rd grade and 11th grade.
On the other hand, there are many math topics you've studied extensively in school that are not on the SAT at all!
If you want to study the right math material, you will first have to find a great book, great video course, or a great tutor, who knows exactly what's on the test.
I've written two books on the SAT math section and there still are a few topics I haven't gotten to. There's just a lot of material on the SAT Math, plain and simple.
Now imagine you had a checklist of all the math topics you'll be tested on. Even if you had this list, the SAT doesn't typically give "single-topic" questions in the Math section.
What I mean is, only the MOST BASIC questions will only be about algebra, or combinations, or triangle sides, with no additional concepts mixed in.
But do you think the medium or hard questions are so simple? No no no… the SAT Math mixes and matches between two and four math concepts in just about every question it throws at you.
This adds an enormous amount of complication to your life, because you not only have to know HOW to apply each of the 30+ concepts, you'll have to learn WHEN to apply them.
It's not like the questions are labeled "Oh, first use circle formulas, then use algebra to solve for x, and then finish by finding the result on a graph." You'll have to figure that out for yourself – under time pressure, early in the morning, and after hours of exhausting test-taking.
Finally, even (especially?) for students who excel at math, raising your score is TOUGH. If you're already scoring 700+ in math, improvement basically means getting every single question correct and not making any of the Top 20 Careless Mistakes.
The problem is, a lot of the time that last math question in each section is a real doozy – and even if you know how to do it, it's probably going to take a while to finish.
So whether math is a weak or a strong subject for you personally, it's tough to improve your score without spending a lot of time practicing.
Don't forget to check out my online bookstore to get your copies of my SAT math practice books Level 1 and Level 2!  
Two reasons why the SAT Writing score is the easiest section to improve:
1) The SAT Writing Multiple Choice tests a limited number of topics:
The SAT Writing multiple-choice tests a very limited number of topics. In my professional opinion, covering 12 major grammar topics will be enough to deal with 80-90% of the Writing multiple-choice.  
2) The SAT Essay is easy to prepare for and improve:
You can prepare for the SAT essay ahead of time by developing a strong SAT essay method and picking your examples ahead of time.
I believe it's entirely possible for any student, at any level, to improve their SAT Writing score to at least a 700, in much less time than it would take to bring Math or Critical Reading to this same level.
That's one of the reasons I like to start with SAT Writing multiple-choice practice in my SAT prep tutoring lessons!
Now, if you agree with what I'm saying, you'll definitely want to get started practicing immediately.  
Five ways to improve your SAT Writing multiple-choice and essay scores:
1) Get my SAT grammar multiple-choice prep book:
My tutoring students rave about the quality and usefulness of the practice questions, explanations, and grammar lessons in this all-original SAT grammar prep book. It will help you quickly determine what your major weak spots are and fix them up before you know it!
This book will definitely help your SAT Writing score skyrocket by improving your knowledge of grammar fundamentals.
Follow this link to learn more about my SAT Grammar Multiple-Choice book.  
2) Study my perfect-score SAT Essay method:
After getting a perfect 12 on the SAT essay, and tutoring dozens of students in the art of writing these essays in under 25 minutes, I decided to take the time to write down everything I could think of about improving your SAT essay score.
The finished product is a comprehensive, yet concise, straightforward no-nonsense method that will tell you exactly how to improve your SAT essay. 
Follow this link to learn more about my SAT Essay method.  
3) Develop your SAT Essay evidence ahead of time:
By preparing your evidence and ideas ahead of time, you reduce the odds that you will panic, feel stressed, run out of time, run out of things to say, or generally just feel clueless on the morning of the test.
You can either use the evidence I provide, or use my examples as a template for your own personal research.
Follow this link to learn more about my SAT Essay Examples Special Report.  
4) Practice in the Official SAT Study Guide:
Once you've studied up on the grammar rules and essay tips I offer, you should start practicing in the official SAT book. Doing a section or two per week, with a timer, is a great way to gain experience and improve your score without investing too much time or effort.
Follow this link to learn more about the Official SAT Study Guide.
5) Get professional SAT prep tutoring in the Writing section:
I recommend checking Google and Craigslist for a qualified local tutor that you work well with. Going local with your SAT prep tutoring can save a bundle of cash in the long run, compared to the bigger companies!
In this post I mentioned three primary books that will help you improve your SAT Writing score in a short time! Now, go check them out in my online SAT Prep Bookstore!  
Further Reading:
What exactly is on the SAT Writing Section?
What is the SAT Essay?
How the Writing Section boosts your score the fastest
SAT Reading Comprehension Strategies
Top 20 Careless Errors in SAT Math
Additional Resources:
SAT Grammar Crammer: Top 12 Rules in SAT Writing (e-Book)
Top 30 Examples to Use as SAT Essay Evidence (e-Book)
Write the Best SAT Essay of Your Life! (e-Book)
Wait – before you go, sign up for my SAT prep email list! I'll send you free subscriber-only bonuses like my Urgent Report on SAT Reading and other exclusive content!