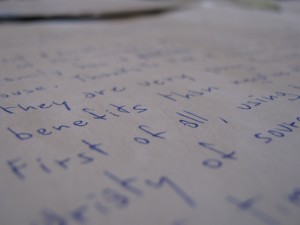 While you're here, sign up for my FREE email list – I'll send SAT-related bonuses for subscribers only, like my Urgent Report on SAT Reading!
Ok, so you know that you need some good SAT essay examples to provide strong support for your argument. You want to prepare for the SAT essay with great evidence; you just don't know WHAT examples to use.
There are as many different opinions on the best SAT essay examples as there are SAT prep tutors, but here's what I think, and why.
Use impressive-sounding evidence:
Despite the fact that there is nothing on the essay grading rubric about "historical" or "literary" evidence being your only option, no one will ever convince me that impressive examples don't affect your score just like your usage of vocabulary does.
If I were a grader, which essay would I subconsciously take more seriously – the one that mentions Gandhi, Lincoln, and Obama, and ties them all together, or the essay that name-drops Jack from Lost, Bridezillas, and Edward vs. Jacob from the Twilight series?
I'm sorry – I will give the higher score to the first essay every time, even if I'm not technically supposed to. Essay graders are human, and first impressions matter a lot to humans, so I'm going to go with the SAT essay examples that make me look good… and smart.
Use examples you care about:
Ever notice how some of your friends have nothing to say in Shakespeare class, but when you're hanging out at the mall with them, they just talk… and talk… and talk… about their favorite things in life?
Get Exclusive SAT Prep Tips!
I want to send you more tips to help your SAT score, but I need your email address to stay in touch. Enter your email below so I can send you my reports on the SAT and other subscriber-only bonuses.
That's because it's so easy to discuss the things we like for hours and hours – in fact, we're downright eager to share our knowledge!
I wrote another post about this topic (Why You Should Use SAT Essay Evidence You Care About). Use that to your advantage – believe me, there are great SAT essay examples to use that fit into both the "Impressive-sounding" and "interesting to me" categories… you just have to know where to look.
Get 30 of the best SAT essay examples to use, already summarized and ready for immediate download.
Check out this amazing SAT essay special report that I created myself! It's over 60 pages long and has a huge variety of interesting characters and examples that you can use to write a high-scoring SAT essay.
Each of these examples will make for prime SAT essay evidence, and with 30 examples to choose from, you're bound to find something you like.
Here's the extremely popular post I wrote about Gandhi as SAT essay evidence that gave me the original idea to research more essay examples to use.
If you like that article, you'll definitely like my essay evidence special report.
Use examples with a lot of flexibility:
Ok, we're going to narrow down the best SAT essay examples just a little more here. How do you actually know if an example is good to use for the SAT?
The best evidence is extremely flexible – it can be used in many different arguments or conversations to prove multiple points – and it is flexible because there are many specifics that you can dig out of it.
The more specific facts you know about your example, the more flexible it will be.
If you only know that a car is a form of transportation, you are very limited in how you can use that evidence… the prompt would have to be specifically about getting from point A to point B, which is unlikely.
If, however, you know that cars a) also pollute, b) require insurance to be on public roads, and c) were revolutionized by Henry Ford, you can now use cars as an example to support arguments about the environment, about the role of government in protecting citizens, and about big business and innovation.
See what I mean? The more specific facts you know, the more purposes your evidence can serve.
Now order your copy of my popular book Top 30 Examples to Use on the SAT Essay!
Further Reading:
Top 5 Historical Examples for the SAT Essay
Top 5 Literary Examples for the SAT Essay
Why You Should Only Use SAT Essay Evidence You Care About
SAT Essay Evidence: Mahatma Gandhi
Additional Resources:
Top 30 Examples to Use on the SAT Essay (e-Book)
Write The Best SAT Essay of Your Life! (e-Book)
Conquer SAT Vocabulary (Video Course)
Before you go, make sure to subscribe to my SAT mailing list. I'll send you my own Urgent Report on SAT Reading and other subscriber-exclusive bonuses to help your test prep!