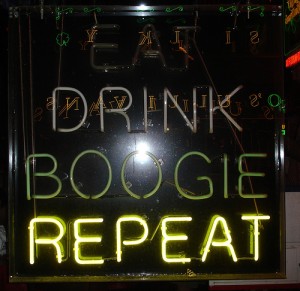 While you're here, you will definitely benefit from signing up for my free SAT prep mailing list! I'll send you subscriber-only tips and bonuses to help you prepare.
"How many times should you take the SAT?" is a frequent question that I hear from my students and their parents, and it's an important one to know the answer to.
On the one hand, you can say "take it as many times as you need to get the score that you want."  
You can take the SAT as many times as you want!
Yes, the short answer is that there is no limit to the number of times you can take the SAT, as long as you can fit it into your calendar.
This approach is to take the "real thing" as many times as possible, trying to dog-paddle your way to a great score simply by putting forth a lot of effort without developing any technique.
You'll spend a lot of money, paying the College Board to "let" you take their exam repeatedly, and you'll probably just wear yourself out without seeing a ton of improvement.
You'll just have a bunch of mediocre scores to show for it.  
Should you only take the SAT once?
At the other extreme are the folks who say "You should only take the SAT once!"
These people believe that colleges will view multiple (and increasing) SAT scores with suspicion and have a negative opinion of students who take the SAT "too many times."
Get Exclusive SAT Prep Tips!
I want to send you more tips to help your SAT score, but I need your email address to stay in touch. Enter your email below so I can send you my reports on the SAT and other subscriber-only bonuses.
So – only take it once – because colleges definitely don't want to see evidence that you can set and achieve goals. If they look at your application and see the signs of an ambitious student who understands the value of being well-prepared… hoo-boy, watch out, your application is going in the trashcan.
Not.
I really don't think colleges look down on multiple scores. Of course there's always a point where you cross the line… anything more than 4 official scores will probably raise some eyebrows, but taking (and reporting) 2 to 3 sets of scores or using your SAT superscore will not negatively impact your chances of getting accepted at most colleges.
Think about it from the college's point of view: the higher the average SAT score of their students, the more prestigious they are and the more new students and applications they will attract. It's only in their favor, really, to accept students who take the SAT more than once and have the higher score to show for it.
A lot of confusing questions surrounding the SAT and college admissions become much more clear when you start to realize just how business-like the college education scene has become.  
So how many times SHOULD you take the SAT?
Back to the topic at hand: how many times should you take the SAT? (not including practice tests)
The short answer? 3 1/2 times. Here's what I recommend, based on my own experience attaining a perfect score on the SAT:
PSAT at beginning of Junior year (+1/2)
January test date of Junior year (+1)
Spring test date of Junior year (+1)
October test date of Senior year (+1) 
Some thoughts on when to take the SAT:
Plan all your efforts around getting your highest score at the beginning of Senior year, at the October test date. This is when you've learned the most in high school, you've had all of summer to get ready, and your brain is mature and ready to go.
Most students will automatically get their highest SAT score at the October test in senior year, all things being equal. However, the way to really do it right is to also take at least one real SAT during Junior year.
Your next best option is the March SAT your Junior year, when school is usually at a bit of a lull. I don't like the May or the June test dates quite as much (the last SAT administrations of the school year) because at that point in the year Juniors are under so much pressure with finals, tough classes, AP exams, etc.
The problem is that many students and parents leave the Junior year SAT to the last minute and sweep it under the rug until then (maybe because they don't have a clue how to approach this exam)
My advice is to schedule an SAT right after Christmas break, in January. School will be ramping back up and you have some extra time to prepare for the test. Maybe if you're lucky, you'll get some SAT vocab flashcards for the holidays!
Considering that many schools administer a PSAT for their students automatically at the beginning of Junior year, this means that a Junior can really set themselves up for success by preparing during the summer before Junior year, practicing on the PSAT, continuing to develop test-taking skills and vocabulary over the first half of Junior year, take the real SAT in January, then buckle down on their schoolwork and forget about the SAT for a while (except to keep working on vocab-building and reading skills).  
Are you really serious about improving your SAT score?
If you're really serious about improving your SAT score and reaching your highest potential, you should check out my SAT prep bookstore, and/or sign up for my mailing list to get your FREE Urgent Report on the SAT Reading Section.
Over the summer after Junior year, you can do some serious SAT prep in the months leading up to the October test date and then ace that test. Scores will be back just in time for the first rounds of college admissions and scholarships.
If you can find a quality independent SAT tutor, the summer after Junior year is the time to do it. It's nothing more than my advice, but I did get a perfect score, and my considered opinion is "take the SAT three times for real, but when it comes to practice tests on your own, the more the merrier!"
Check out my SAT prep bookstore and the Griffin SAT Video Course for more SAT prep!
Further Reading:
When to Start SAT Prep
SAT Superscore: What is it?
Early Decision, Early Action and SAT Prep
What is a good SAT score?
Getting Into College: The Complete Guide
Prepping the SAT at Home: The Complete Guide

Additional Resources:
Griffin SAT: A Complete Course on Acing the SAT (Video Course)
Winning College Scholarships for High Schoolers (Video Course)
If you learned something from this article, be sure to sign up for my mailing list to get more exclusive helpful SAT prep information, as well as some cool free bonuses!