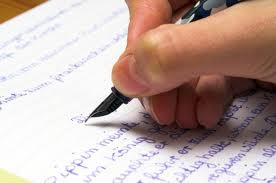 I love to give my students confidence-boosting and score-improving expert tips on the SAT. Sign up for my email list today!
How to Write an SAT Essay Introduction Paragraph
This post is specifically about SAT essay introductions. If you want to learn more about the SAT essay, I suggest you back up to the Introduction to SAT Essay Structure post.
Anyway, I've noticed that many of my SAT prep students worry far too much about the beginning of their SAT essay, particularly the first sentence.
I try to redirect their focus towards their SAT essay body paragraphs, where the "meat" of the argument will take place. The purpose of the intro is simply to smoothly get the grader reading.
Your SAT essay intro just needs to restate the topic, take a side, and introduce your SAT essay evidence. It's also nice if you can show off a cool vocab word or two.
That's it – you're done!
Here's how you can do all that in your SAT essay introduction:
Restate the SAT essay topic and take a side
Restating the prompt is something you should do out of courtesy to the grader. It helps them orient their mind to your argument.
Get Exclusive SAT Prep Tips!
I want to send you more tips to help your SAT score, but I need your email address to stay in touch. Enter your email below so I can send you my reports on the SAT and other subscriber-only bonuses.
Restating the prompt will also subconsciously encourage you to stay on topic when you rewrite it.
You can use this formula to restate the prompt while immediately taking a side.
If you are taking the affirmative, say "It is true that [restate prompt with slight variations in wording], as some have said."
On the other hand, if you are providing the negative response to the prompt, do this:
"Some have said," then restate the prompt with a few words changed. "However, examples from [whatever], [whatever], and [whatever else] prove otherwise.
Two examples of answering the SAT essay prompt:
An example of how this works, with the prompt "Is it important to question the ideas and decisions of people in authority?"
If your stance is "yes": "It is true that we should openly question the decisions of people in positions of power, as some have said."
If your stance is "no": "Some have said that it is fundamentally important to second-guess the decisions of our leaders. However, examples from history, literature, and my personal life prove otherwise."
That's it. A simple, easy formula to get your first sentence written by restating the prompt and taking a side. It's what I used to get a 12 myself.
We still need to introduce our SAT essay evidence!
I like to give each piece of evidence (you should have about three per essay) its own sentence. We don't want to give away our entire argument yet, just give a preview of what's to come.
Name your evidence, give a few words of description, and make the first connection between your evidence and your thesis – provide an idea of why you picked this specific evidence to answer the prompt.
We also want to take up space on the page with the introduction of our evidence because longer SAT essays tend to get higher scores.
This is also a good time to double-check that you've included at least one cool vocab word early-on in the essay to impress the graders!
An example of good introduction of evidence:
Remember, our prompt is "Is it important to question the ideas and decisions of people in authority?"
In response to this prompt, I might compose the following essay intro paragraph:
"Gandhi, a non-violent leader of the oppressed Indian nation, openly questioned authority and led his people to freedom. Likewise, Amelia Earhart refused to obey the voice of male authority in a time when air travel was in its infancy and dominated by men. And don't forget, we wouldn't even be here if the legendary explorer, Christopher Columbus, had not had faith in his sailing route despite the prevailing wisdom of 'authorities' that his voyage would never be successful."
To cap it off, a good SAT essay intro paragraph:
Restates the essay prompt
Takes a clear side
Introduces your SAT essay evidence
Displays a few impressive and relevant vocab words
Now order my e-Books on the best SAT Essay evidence and SAT Essay strategies. You can also enroll in my Conquer SAT Vocabulary video course!
Further Reading:
Introduction to SAT Essay Structure
What is the best length for an SAT Essay?
How to Rephrase an SAT Essay Prompt
4 Tips for a Better SAT Essay
Additional Resources:
Top 30 Examples to Use as SAT Essay Evidence (e-Book)
Write the Best SAT Essay of Your Life! (e-Book)
Conquer SAT Vocabulary (Video Course)
Hey, before you go – be sure to join my SAT email list. I send subscribers free exclusive content like my Urgent Report on SAT Reading and other test-prep bonuses!