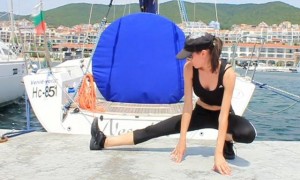 Note: Most of this warm-up requires that you have my SAT Prep books ready to practice and learn from. Make sure to order those SAT prep books before the day of the test for maximum readiness!
Do you have a plan for how you're going to warm up on for the real test on SAT morning?
It's important to get your brain in gear with an SAT warm up before you show up to start the test!
Use my 15-minute SAT Warm Up Routine
First, pick up your Official SAT Blue Book and spend 3 minutes warming up with a short reading passage to get your eyes and reading mind in shape for the test. Practice taking notes to get your note-taking juices flowing. Answer the two questions and practice your elimination.
Then d0, according to your skill level…
1) Three medium level math questions from your weak spots in my SAT Math Basics Book or Advanced SAT Math Book.
2) One easy- or medium-difficulty vocabulary question
3) Review your evidence for the essay by writing down the names and titles of your examples (Examples of SAT Essay evidence)
4) Try a couple of SAT grammar practice questions with the time you have left
A good SAT warm-up will increase your score and your confidence!
You're ready to go… but don't forget to bring a snack for your breaks!
Good luck – you'll do great – take a deep breath and go get 'em!
Don't forget to sign up for my SAT mailing list to download your free copy of my Urgent Report on the SAT Reading section today!