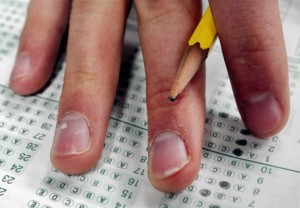 Welcome to my test-prep blog! Be sure to sign up for my SAT newsletter. I'll send my Urgent Report on SAT Reading and other exclusive content to help you prep.
You don't have to shell out money for a practice course or a proctor to take a full-length timed practice SAT.
All you need is your copy of the Official SAT Study Guide, which you should already have anyway, and a weekend morning with nothing scheduled!
Let's get into the how, why, and where of taking a free practice SAT test from home.
Why should you take an SAT practice test?
Here are five great reasons that every serious student should take a complete practice SAT before the day of the real test.
SAT prep isn't meant as a punishment but as an opportunity. There are many encouraging reasons why SAT prep is important!
Think about which of the following reasons best apply to your personal situation.
To gain experience with the SAT and the types of questions you will be asked
To discover where your weak spots are (so that you can study and improve them)
To build test-taking endurance to deal with this incredibly long four-hour test
To know your approximate current score and decide how much improvement you would like to achieve
To prove to yourself that the SAT isn't that bad after all.
Check out some more reasons that practice tests drive real score improvements!
When should you take an SAT practice test?
Well, if you just mean "what time should I start my practice SAT," the best answer is: no later than 9 am on a day off (Saturday, Sunday, or a holiday).
Get Exclusive SAT Prep Tips!
I want to send you more tips to help your SAT score, but I need your email address to stay in touch. Enter your email below so I can send you my reports on the SAT and other subscriber-only bonuses.
If you mean, "at what points during the year is it a good idea to take a practice SAT," the answer is flexible. I recommend taking one practice test 2 weeks before the real SAT, so you can score it and study up on your weak points before taking the real thing.
Beyond that, the earlier the better, and the more the better. Take as many practice tests as far ahead of time as your schedule permits.
The "sweet spot" for practice tests seems to be from 2 to 12 weeks before the real SAT.
How many times should you take a full practice SAT?
As I mentioned above, "the more the better." Your particular answer depends on:
Free time in your calendar
Desired improvements and target score

College

and Scholarship goals
Amount of willpower for studying
Seriousness as a student
At a bare minimum, you must take one practice SAT to truly be ready for the real thing.
My personal favorite is three practice tests, spaced 2 weeks apart, with serious studying in-between.
Three tests offers a good mix of experience and practice without crushing your calendar or wasting your time.
What do you need to take a practice SAT at home?
There are only a few things you'll need:
Official SAT Study Guide to have 10 practice tests to work from (this book is essential for any student that's going to take the SAT or PSAT)
A timer with an audible alarm
A quiet space with a table
It can also be a good idea to review the essential things you must bring to the official SAT and practice pre-packing your supplies the night before your practice test.
How much time do you need for your practice SAT?
Your practice SAT should take almost exactly as long as the real thing, except that you can be a little more efficient, since you don't have to wait on students to come back from break, for a slow proctor, etc.
Budget 4 hours for the whole process, although you will probably finish a little sooner. Also, some of that time will also be spent grading your test on your own.
Start the testing process early in the morning:
You really need to start your practice SAT no later than 9 am. 8 am is even better and more realistic.
Why does it have to start so early? Well, for one, you get to enjoy the rest of your day a little sooner, which is always nice.
But the main reason is simply to be realistic. After all, the real SAT will require waking up early in the morning (way earlier than you want to wake up on a Saturday) and rolling into the test half-asleep.
You should practice just like you play, so start your practice SAT test no later than 9 am to simulate the real thing.
Eat breakfast before your practice test:
Again, we want to be realistic and mimic the real SAT test-day experience. That means getting up early enough to prepare and eat a good healthy breakfast before taking the practice test.
It's very, very difficult to make it all the way through the test on an empty stomach, and you won't perform your best without some fuel for your brain.
You might also "practice" packing your SAT snack and chowing down during one of the officially-scheduled breaks between sections!
Find a quiet place to take your test:
If your house gets noisy on weekend mornings, make sure you go somewhere quieter. It's basically impossible to focus and concentrate without a quiet space to do your thinking.
A library can be a good option, especially if you can find a reading room, or a private office to work from.
Make sure to time the sections properly: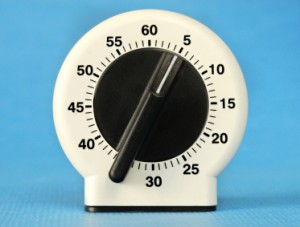 Different sections have different time limits.
How much time do you have per SAT section?
This question is easily answered by looking at the bold text above the beginning of each individual section.
Here you can find the specific time limit for that Math, Reading, or Writing section.
Make sure to use a timer loud enough to hear – you might get too focused-in on your practice test if the alarm beep is not loud enough to get your attention.
Get your parents to proctor your practice test if you want:
I've found that many, though not all, parents are happy to help by proctoring your practice SAT.
This also helps solve the problem of timing, since another set of eyes can keep you honest about putting your pencil down as soon as time is up.
Maybe you can even sucker them into grading your test for you at the end!
When to take breaks during your SAT practice test:
Breaks are 5 minutes long and happen after every other section.
So, you'll take two sections back-to-back, followed by a 5-minute break. Then, another two sections, again followed by a 5-minute break.
It can be very tempting for your 5-minute breaks to stretch into 15-minute breaks.
Do not let this happen. It is unrealistic and a waste of time and energy. If you're going to take this whole practice SAT… then treat it like the real thing, and take it seriously.
From experience, the most likely things that will cause your breaks to stretch out, distract you from your practice test, and generally waste your time and energy are:
Watching TV (you get hooked and spend 30 minutes watching)
Contacting friends (you stay and talk with them instead of getting back to your test)
Video games
Making food
Don't get distracted or start another activity, just "relax." Stop thinking for 5 minutes – maybe have your snack and a few sips of water. Then get right back to the practice test.
Write the SAT essay as a practice, using their paper:
Yes (groan) I do want you to write a complete, authentic, serious, best-effort SAT practice essay.
The essay is always the first section of the test and can play an important part in determining your mental state for the rest of test day.
It's also a good chance to practice using your pre-planned SAT essay evidence in a time-pressure situation.
Also review my favorite SAT essay strategies to get an edge on other students and write the best SAT essay of your life!
Make sure to use the provided lined paper to get used to the essay format and length that you will be using. You can just tear the paper out of the book – it's with the "bubble sheets" for your answers, which are placed before each of the practice tests in the Official SAT Study Guide.
Take your practice SAT with a couple of friends if you share common goals and want moral support…
You can take your practice tests with friends, but don't get distracted. This works best if you have an external proctor like one of your parents to keep you on track.
Having a few other friends to share the misery not only lifts your spirits, it increases the chance that you'll follow through, take the test seriously, and gain the most benefit from the entire experience.
Also, as soon as you're all done, you can go hang out!
How to grade and score your practice SAT:
At the end of each of the 10 practice tests in the Official SAT Study Guide, you will find the answer key to the test, as well as a set of directions for scoring your test.
Use these directions to fill out the grading forms at the end of the test and calculate your score. At the end of the process you will use a chart to match your "Raw Score" to your "Converted Score" on the 2400 scale.
You might notice that a "range" of final scores is represented. This is normal.
The exact score will change slightly with each different administration of the test, but the range is a good guide to your current score level.
After scoring your practice test, do you think it's a good SAT score?
Review and correct the mistakes on your practice SAT:
This step is one of the most important and most-often overlooked (or blown off by students feeling lazy).
You need to check your answers and then figure out how, when, and where you went wrong.
Now that you know the right answers, your time and effort should be spent figuring out how to avoid making the same mistakes next time.
For example, did you understand correct guessing and scoring strategy for the SAT?
I'm also willing to bet that at least half of your mistakes will be careless errors that will immediately be obvious when you look back.
When you don't know why an answer is wrong, use the online explanations:
Every purchase of the Official SAT Study Guide includes access to explanations to all of the practice test questions.
Now I'm going to be honest: those explanations are pretty useless, much of the time. The authors just don't seem to have put that much effort into making their thoughts clear, so some of the explanations may leave you more confused than when you started.
However, you might just be able to get the foothold you need to figure out that super-tough Math or Critical Reading question.
To access those explanations, just log in to your College Board account at the SAT Study Guide Owner's Area.  
Don't forget to join my email list before you leave for more subscriber-only SAT tips!
Further Reading:
How do you grade an SAT Practice Test?
What Time Does the SAT Start?
Why SAT Practice Tests Drive REAL Score Improvements
How the SAT is Scored and When to Guess
50 Encouraging Reasons the SAT Is Important
What is a Good SAT Score? A Pro Tutor's Thoughts
Additional Resources:
Visit my SAT Prep Bookstore (e-Books)
Secrets of the Official SAT Study Guide
Winning College Scholarships for High Schoolers (Video Course)
Hey! Was this article useful or interesting? For more, join my free SAT prep e-mail list for exclusive test-prep content and bonuses for subscribers only!