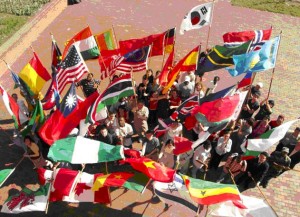 Welcome to my SAT and test prep blog! Be sure to join my email list for subscriber-only bonuses like my Urgent Report on SAT Reading and other exclusive info.
Are you a student from outside the United States that wants to attend a U.S.-based college? This article is for you!
You will almost certainly be required to take the SAT test as an international applicant, but you might never have heard of this test until now.
Keep reading to learn what it is and how to sign up to take it as an international student.
What is the SAT?
In a nutshell, the SAT is a famous test in the American education system that is used to rank students by academic abilities for college admissions and scholarship acceptances.
The SAT test is given in more than 175 countries around the world, which means the competition is high for college acceptance, for international applicants as well as U.S. students.
You might want to know what a good SAT score is so that you know what to shoot for and how to get a perfect score on the SAT so you can get your studies started..
The main concepts tested are:
However, it's important to be aware that the SAT is not like other tests and you need to spend extra time preparing for it.
Get Exclusive SAT Prep Tips!
I want to send you more tips to help your SAT score, but I need your email address to stay in touch. Enter your email below so I can send you my reports on the SAT and other subscriber-only bonuses.
The SAT is different from most tests:
It is very long (4 hours)
It is almost completely multiple-choice
It's scored out of 2400 points
The questions have a distinct and unique style – they are "tricky"
English Vocab is Essential for International Students taking the SAT
The language and vocabulary barrier is one of the most common issues that international students experience when applying for and taking the SAT to go to an American college.
Even after having studied English in your own country, when it comes time to take your SAT, vocabulary is going to be a challenge (as it is even for US students)!
Even though some schools are now dropping the SAT for international students requirement, vocabulary skills are still very important – not only to ensure you have a strong grasp of the English language, but also to make your studies easier and more enjoyable while abroad.
If you think your vocabulary could use a boost, read this article on SAT vocab and enroll in my Conquer SAT Vocabulary video course. These are filled with resources that are sure to make your transition to American English much smoother while also giving you the vocabulary skills to make your studies easier.
You'll need to work on your English Grammar Rules
The SAT Writing test is heavy on grammar and verbal skills that even native English speakers can find challenging.
Study what will be on the SAT Writing test and prepare heavily with grammar study and additional free reading practice and vocabulary-building.
The good news is, the rules of grammar aren't actually that hard to master. There are a limited number of rules that you will be tested upon.
However, if you are an ESL student and you go into the SAT test without any preparation, the writing section will be very difficult and frustrating – and you'll get a low score.
Strong Math skills may help make up for weak English skills
Obtaining a great score in the math section will help increase your SAT score and because fluency in English is not as essential in this subject, it's a great way to improve your overall score.
SAT math scores are extremely important to US universities, and preparing yourself is easy with my SAT prep books including Math Mastery Level 1 and Level 2.
In my bookstore, I also have a series of books that will help your SAT writing score by teaching you the grammar and essay tricks that are essential for the SAT.
How to register for the SAT as an International Student
Attending a post-secondary school in the US can be an exciting, educational and life-changing experience!
To prepare you for this journey and transition in your life, I've compiled helpful information and resources that will enable you to learn about the registration and testing process, fee payment, scholarship opportunities, testing locations and deadlines that need to be met.
The SAT for international students can be taken six times a year, in October, November, December, January, May, and June, which makes it convenient for students who may need to travel to a testing center.
Registering for the SAT as an international student can be done in three different ways:
You can register online (exceptions include Benin, Cameroon, Ghana, Kenya, Nigeria and Togo).
You can register through the mail by using The Paper Registration Guide for the SAT and the SAT Subject Tests. This should be available through your school.
Your can register through an

SAT International Representative

(not available in all countries).
How can international students pay for the SAT?
The College Board makes paying for the SAT for international students easy by accepting the following payment methods:
Acceptable credit card (Visa, MasterCard, American Express, Discover)
US postal service or international money order
Bank draft
Check drawn on US Bank
UNESCO coupon
Restrictions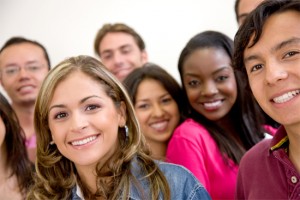 There are restrictions in place for students in some countries that will affect your methods of application, payment, acceptable forms of ID and other issues.
To be sure you have addressed all of these issues, click here: International SAT Registration Restrictions
The Testing Process and Required Materials
On test day you will arrive at the testing center (look up code for your country on this page—there are more than 1000).
You must bring your admission ticket, two #2 pencils and a soft eraser, acceptable photo ID, and an approved calculator.
You may bring a watch and a drink and snacks for the break. Check with the test center to be sure.
You are NOT to bring a cell phone or mobile device of any kind, timer, camera, mp3 player – basically any device other than an approved calculator.
For more information about the day of the test, you can read these articles:
International SAT Deadlines
To make sure you meet the required registration date deadline, and learn the early, regular and late deadlines, click here: Official SAT International Registration Deadlines
The SAT for international students allows students around the world to study in the United States to earn diplomas, degrees, doctorates, and become virtually anyone they wish to be.
By ensuring you are fully prepared for your SAT, you give yourself the best chance to score well and be admitted to the college or university of your choice.
Oh, also – by signing up for my free SAT prep email list, you'll find information in your inbox that might just give you that edge to help you score high on your SAT and attend the school of your choice! So sign up today!  
Further Reading:
What is the SAT Test for?
Why You Must Study an SAT Vocab Word List
What Exactly is on the SAT Writing Test?
Essential Things You Must Bring to the SAT
How to Get Into College: The Complete Guide
Additional Resources:
Conquer SAT Vocabulary (Video Course)
Shop my SAT Prep Bookstore (e-Books)
Winning College Scholarships for High Schoolers (Video Course)
Before you go, be sure you've joined my SAT prep email list! I send subscriber-only exclusive content to help my students prepare for SAT tests and college admissions.